When it comes down to working with businesses and companies, I adopt an evidence-based approach that includes drawing experience and insights from three phases::
Knowledge creation

Knowledge transfer

Knowledge implementation
My strength lies in facilitating the communication process between the ideas out there and the practical use of it. For that reason, in each of my subject areas I have considerable experience in bringing the most recent research findings to live and acting as a trusted advisor and coach to you and your company.
Contemporary business has the responsibility to create trustworthy and value-driven cultures. My expertise concerns integrating insights of why good people do bad things into training sessions promoting a moral awareness culture.
Trust is the social glue that makes a company tick and facilitates the implementation and execution of any business strategy. I have developed training sessions to increase your understanding of trust as a business asset.
Leadership Effectiveness
Development & Executive Coaching
We have too many managers and not enough leaders. To respond to this observation, I have developed the three laws of leadership to create vision-driven and inspirational work places.
Many daily decisions in business involve some kind of negotiation. I have developed training sessions to understand the psychology and sometimes irrational nature behind our negotiation decisions.
Based on my own research and collaborations in China with a variety of stakeholders, I have developed several behavioural models explaining the influence of Chinese culture on how business is conducted and managed.
I have also developed several surveys and assessment instruments that can be helpful in assessing the effectiveness of evidence-based consultancy interventions. These include:
Ethics into Action Survey

Span of Ethics Scan

Leadership On-Hold Survey

Moving Forward to Agreements Survey
Clients and Collaborators include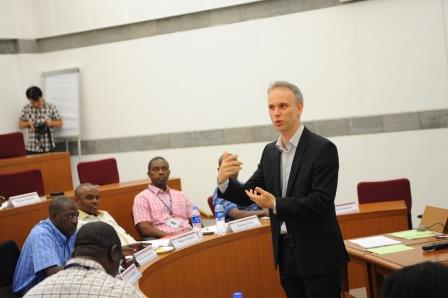 Prof. David De Cremer has provided in-house training and education seminars for the executive committee of Exmar Shipmanagement nv since 2013. He was instrumental in developing the necessary strategic tools to grow in our position as a market leader in offering complex but elegant logistic solutions to the oil and gas industry. Apart from being a well published and astute academic he's also a fun person to be with. His thought provoking insights are a must have for every company involved in value based entrepreneurship.
Prof. David De Cremer collaborated with us to deepen our understanding about the relationship between Huawei's leadership and innovation in a competitive global market. He impressed us with his clear, detailed, and at the same time, practical thinking about why innovation is an integral part of Huawei's DNA and what the specifics are of our corporate leadership.